Yangshuo Adventure 7 Day Summer Camp 2019
Summer Camp
Yangshuo is in the Guangxi province, in amongst the beautiful karst mountains is a perfect location for a summer camp. Our programs offer exciting adventures for students to learn, grow and make new friends from around the world.
Activities such as climbing, camping, biking and caving, there are plenty of opportunities for students to step outside of their comfort zone, challenge themselves and try something they have never done before.
Facilitating the camps are the fantastic staff at Indier that come from all over the globe and bring individual experiences and expertise. Staff are with us all year round so have unbeatable knowledge of the locations we use and all of our company procedures and safety standards.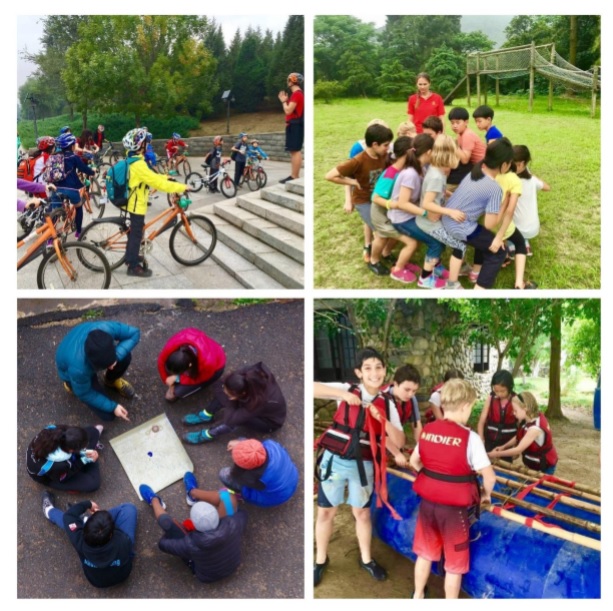 Participation
Indier takes a 'challenge by choice' approach to the adventure elements of our programs. We welcome people from all levels of fitness and experience on our programs. Generally participants should be able to comfortably walk for 2-3 hours carrying a small backpack. We are able to facilitate both challenging activities for those experienced enough, as well as novice/beginner level for those just starting out.
It is specifically aimed towards older participants, ages 12-16 years, this gives a more tailored experience to the students and they can interact with peers of a similar age.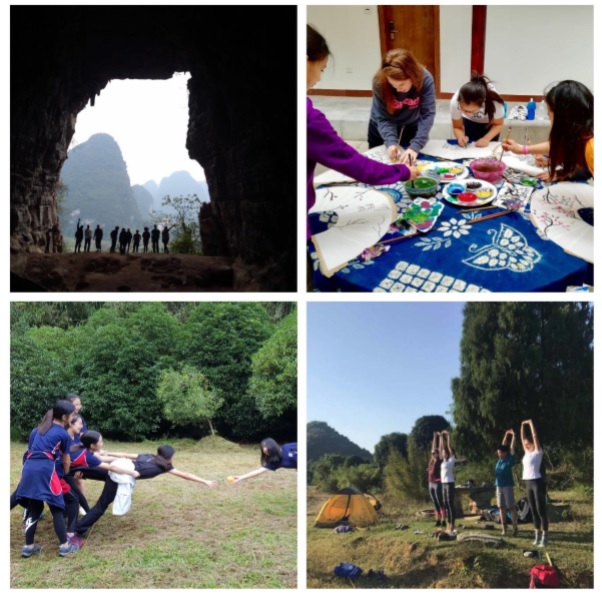 Dates and Cost
Date:
* 14th - 20th July 2019
Cost:
* CNY 7000
The price includes :
* All meals
* Water refills
* All group equipment as planned
* Professional outdoor instructors and logistics staff
* Assistance with preparation before program
* Group first aid kits
* Travel insurance covering all activities and all entrance fees (as required).
* Round trip train tickets between Shenzhen and Guilin, all transportation from & to Shenzhen.
The price excludes
* Train tickets, local transportation in Shenzhen
* Personal gears
* Personal expenditure
* Other unlisted expenses.
Itinerary
Below is the proposed itinerary, although it may be adjusted according to weather, traffic, government policies and/or any other factors. Indier will make every effort to keep you informed of any changes.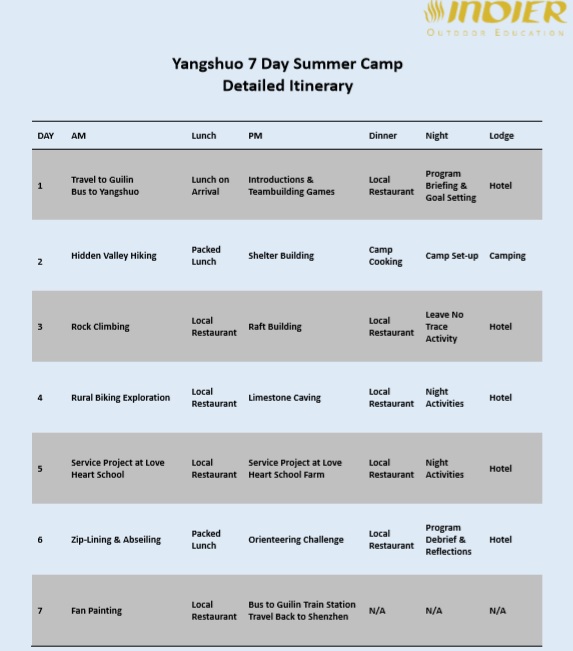 Trips can be customised for group bookings.
For more information get in contact with our team at +86 75583829601 or email us on nihao@indier.org