员工
我们经过专业培训和经验丰富的员工将会给您和您的队伍提供诚挚的服务。为了能够给学生带来最好的体验,英迪尔坚持聘请来自世界各地的合格、经验丰富且热爱户外教育的领队、助理和后勤人员。我们的团队成员背景各异,但都钟爱于教育,钟爱于大自然和探险!每位领队都受过急救培训,多数更持有高级资格证书。他们还非常善于应付潜在环境风险,对于不同的活动和地点都拥有广泛的经验并接受过相关的培训。
Terri Zhu Owner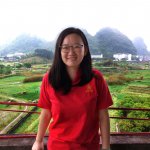 Terri is originally from Liaoning Province in the North of China. She graduated from Jilin University with a degree in International Economics. Before coming to Indier, she worked for the international corporation MASCO in Shenzhen, China. After an opportunity that she had a glimpse of the developed outdoor education industry in western countries, she turned her passion for this industry and jumped into founding Indier without hesitation. In the first 4 years of Indier, Terri worked in almost every corner of the outdoor education field, and her passion and love for the industry is even stronger than when she started. She considers it as her life-long career, and expects that the biggest achievements in her career life is to introduce developed outdoor education concepts into China and push the industry to grow!
Andrew Wright Director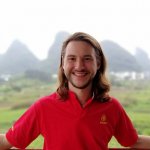 Andrew comes from the great state of Oklahoma, where he graduated from the University of Central Oklahoma with a degree in Outdoor & Community Recreation. His passion for the outdoors and teaching comes from his personal experiences as a kid at summer camp. He has over 10 years experience in the outdoor industry and has worked in numerous different states and countries. When he is not in the office, you may find him on a rock wall or sitting in a kayak.
Douglas Robertson Director
Doug is our Program Development Manager. He is an experienced alpine mountaineer and has been working in the outdoor industry in China since 2008. If Doug is not planning or running programs, one can often find him hiking the hidden valleys of Yangshuo's countryside.
Liz Lin Logistics Manager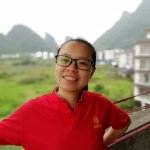 Liz is our logistics manager and is responsible for everything that happens behind the scenes on programs. She is so passionate about the outdoors that she moved from the big city to Yangshuo, a small town in Guangxi Province, where she lived for several years before joining Indier. She has been working with foreigners for many years and has also lived abroad for a time. She is fluent in English, Mandarin and Cantonese. She fully understands the requirements of working in an international environment and in the outdoor industry and there is never any problem communicating with her!
Sarah-Jane Moore Assistant Director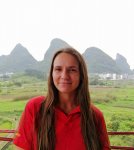 Sarah-Jane is from the north-west of England. She is an outgoing, conscientious and energetic person whose enthusiasm for hiking, biking and kayaking as well as years of rock climbing experience motivated her to start working in the outdoor industry. In addition to Mainland China she has also worked in Hong Kong and Vietnam and she has travelled extensively around Asia and the rest of the world.
Sarah loves the outdoors and is passionate about working with children. She has 11 nephews and nieces whom she helped raise, so she is naturally excellent with kids! She loves their curiosity and fun-loving attitude and she strives to help kids to rediscover how to have fun out in the real world, through adventure and outdoor activities. Her upbeat personality and high energy level has made her very popular with the students and staff alike.
James Lowry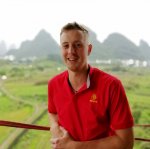 James is originally from Wirral in the North West of England, he has been working in the outdoors since 2010. He started his training in Scotland where he gained qualifications in mountain biking, kayaking, canoeing and then in 2013 went to university in Leeds to study youth work and community development. James has a passion for working in the outdoors and giving children and young people new experiences within the outdoors.
Iordan Viorel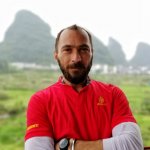 Jordon comes from Romania, and yes he can tell you stories about the real Dracula! He majored, surprisingly, in mural religious painting. He also loves to play the guitar. Jordan has been working in the outdoor education industry for the last five years; He is a qualified surfing and sea kayaking instructor and is passionate about caving and mountain biking.
Emily Jane Cardwell
Emily is from the North west of England, she is 28 years old and has been living in china for nearly 3 years. Emily came to China in 2016 and fell in love with the culture, food and lifestyle. She found herself a small stray dog in the countryside of Yangshuo and adopted her. Emily enjoys hiking with her dog amongst the karsts, she also enjoys swimming, Kayaking, surfing and tree climbing. Emily is passionate about Animals and their welfare, she has been in this particular industry for 3 years but has worked with Children for 8 years. She also has four nephews that she helped care for while in the UK.
Pankaj Lagwal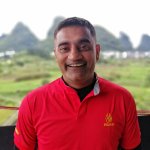 Pankaj is a mountaineer who hails from the Indian Himalayas, with a degree in Philosophy. Pankaj has been exploring the outdoors since childhood, and his pragmatic approach comes from his 20+ years of experience in the outdoor industry. He has scaled some good mountains in his career including the 8463m world's 5th highest mountain Mt Makalu in Nepal Himalayas and he did an expedition on the Patagonian ice caps. He is also an IRF grade V raft guide and has guided on many rivers in India and in the USA.
Felix Hawke-Jones
Felix is from Australia and has been guiding for 8 years. He was at unviersity for 3 years studying outdoor education. He now has extensive experince as a climber, biker and surfer. He worked in Australia for 3 years before moving to China where he has lived for the last 2 years.
Sharon Maingi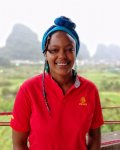 Sharon is a positive, free spirit from Kenya, she has a lifetime of stories from her adventures from around the world. Sharon is a certified Wilderness Advanced First Aid administrator. Her passion for the outdoors can be seen in her work, either working behind the camera to capture unique moments, or while teaching kids about the natural outdoors.
Callum Willis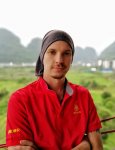 Callum is an outdoor enthusiast and has over a decade working with people in the outdoors. He has a wide range of knowledge across most outdoor sports with a specialty in rope work and power boating. He enjoys all aspects of his job and the outdoors. in his spare time he enjoys the activities he teaches, keeping his skills up to date. After traverling many countries, Callum ended up in China teaching the activities he loves and enjoys.
Benjamin Christensen
Benjamin comes to us from Denmark where he spent his childhood climbing trees and exploring nature. After highschool Benjamin caught a desire to explore the world bringing him to Europe, Asia central and South-America where he spent his time hiking, diving and volunteering as a school teacher. Benjamin came to indier in spring 2018 where his passions for teaching and the outdoors have become one.
Chris Cowell
Chris is from the Wirral in the North West of England. He is a hard working, enthusiastic individual who is positive and energetic towards all activities. Chris has been working with Children for over 10 years both in schools and the outdoors and has a real passion for helping students achieve goals. In the outdoors chris enjoys Kayaking and playing games with students. In his down time Chris can be found with a ball at his feet as he is a massive football fan. He also likes socialising with friends and playing video games.
Yolanda Zhuang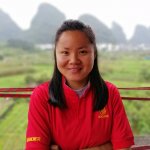 Yolanda is from the eastern Chinese province of Zhejiang,who is fluent in English and Chinese, has years of experience of working in logistics. When the opportunity come to work for such a progressive company like Indier, she had to take it. She loves traveling to different places for the Indier programs and enjoys taking part in the outdoor activities.
Mt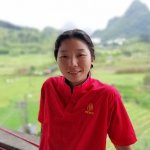 My name is MT, sometimes I'm very serious, but usually a funny person, my hobby is painting and adventure in nature, I have great interest in animals, insects and plants , I was a ski coach in beijng , worked in Ghana for 6 months in 2017, after that back to Beijing for work, now I'm an logistics in indier.
Ashley Mendiola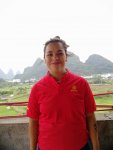 Ash comes from the state of Texas. She has studied and worked in Outdoor Education/Recreation, giving her an ample amount of knowledge guiding a variety of activities,including but not limited to climbing, hiking, rafting and mountain biking. She loves to share her enthusiasm and passion for the outdoors with others. She especially enjoys sharing her passion with children, in hopes of encouraging the same joy for exploring nature's beauty.
James Chandler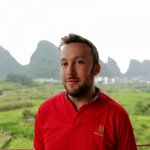 James is from the South West of England. He loves the great outdoors and is a keen educator. He spent some time studying Sports Coaching at a university back in England where he learnt how to play and teach a variety of activities. He has also taught English to many students, most recently in the Ukraine. James is WAFA certified and is a friendly, approachable, professional person.
Amanda Lu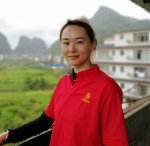 Amanda comes from Hohhot, Inner Mongolia. She loves travelling and she has traveled around China a lot. She works in Indier as logistics, helping outdoor groups arrange hotels, restaurants, transportations, etc. She has good people skills and rich experience. Most importantly she likes outdoor activity as much as other people:full of enthusiasm!
Miranda White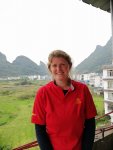 Miranda is from Yorkshire in the North of England. She loves the outdoors, especially hiking and camping, and is happiest outside. Miranda has worked in education for over eight years with a variety of ages and nationalities, but particularly likes introducing young people to the joys of nature.
Nick Huang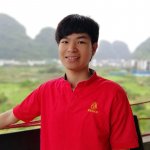 Nick comes to us after his graduation and starts to learn how to be a logistics assistant.He has a interest and passion for outdoor education and enjoys the atmosphere here.He likes Chinese classics and poems, which generate even stronger interests for him to the outdoors.
Ravi Shetty
Ravi comes to us from India, he has been a outdoor educator for the past 15years. Ravi is also a keen mountaineer, river guide, climber, naturalist, mountain biker and perceiving permaculture .
Raffaele Leuzzi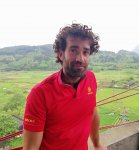 I come from Italy, i love traveling and the outdoors, i especially enjoy rock climbing, and I am WAFA certified. I've being traveling around Asia and China for the past 4 years, I enjoy learning about new cultures and exploring different places. Before starting my travels in Asia, i worked and lived in Holland for about 9 years, it was there that i realised how important for me being in a natural environment is. I was only able to understand my need for being in nature, whilst i was living away from it.
Soumitra Paul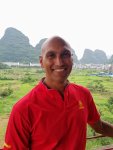 Paul is an experienced outdoor Educator from India, he is a very charismatic guide with the ability to capture attention from everybody when he speaks. He has achieved plenty of certificates such as Assessor and supervisor I.A training from Duke of Edinbrough, Trainer and advocate on LNT from NOLS, Backpacking diploma from NOLS, kayaking instructor, Mountaineering instructor from Himalayian mountaineering institute, Experiential Educator diploma and Trip Leader Certification from NOLS. Paul loves to live in the present, teaching people how to stay healthy and happy, his passions include Marathon and Triathalon running, Swimming and Biking.
Jamie Hutchinson
I have a lot of experience in the social care industry, working with people with learning difficulties, mental health issues, complex behaviour, drug and alcohol issues, borderline personality disorder and autism. I have also spent years volunteering as a therapist for volunteer healing groups, a hospice and with anyone else who needed and wanted it! For the past 4 years I have been living in China and studying Taijiquan, teaching English and occasionally working as an outdoor guide.
Kuttss Bommanda
Kuttss comes to us from india with multiple interests, his work has taken him across 6 continents.He has vast experience in outdoor & experiential education as an Outdoor leader, Facilitator, Leadership Faculty, Manager and Consultant.He has keen interest in Climate change mitigation using Permaculture. He is a certified Mountaineer, River Guide, LNT Master Educator, Wilderness EMT, Leadership & Life Coach and Permaculture Educator.
Laura Philippi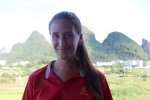 This is Laura, she's an educator/social worker from Germany. Laura is open minded and very empathetic. She has experiences working with children and adults in all ages. Before Indier, Laura has been traveling for 8 months through Southeast Asia, where she got many experiences with different cultures, countries, people, nature and activities. She likes to hike and explore new environments. She is looking forward to working for Indier and to do activities with children and educate them in different areas.
Leo Charlier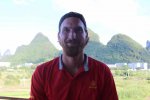 Léo is from the oldest town in Germany, Trier. He is a positive and open minded person. Back home, Léo worked as an educator/socialworker in a kindergarden, a primary school and an open youth house. He has a lot of experience working with children of different ages. Eight months ago he quit everything in Germany and decided to travel the world and his journey has brought him to Indier. He enjoys encountering new cultures and exploring the nature. In his free time he likes to play basketball and to cut and edit videos.
Martin Mosquera
Martin is from Argentina, he lives in Patagonia. His passion is white water kayaking and mountainering. He worked as a rafting guide in Argentina and Spain. He is finishing his degree as physical education teacher, oriented in outdoor activities. He really enjoys playing games with kids!
Lilen Sosa
Lilen is from Ushuaia, the very south of Patagonia, Argentina. She started climbing in a Climbing Youth School there, when she was 11 years old. Since then, mountaineering, climbing and friendship are the most important things in her life. She worked as a mountain guide and climbing instructor. Currently she is in the midst of completing a program to become a Waldorf Pedagogy Educator when not working for Indier.
Rachel Lightner
Rachel grew up amoungst the evergreen trees of southern Oregon, where she spent her winters snowboarding and summers hiking. She moved to the Sierra Nevada mountains to attain her degree in Journalism and Outdoor Education from a small liberal arts college next to the shores of Lake Tahoe. It was here that her journey teaching outdoor education blossomed, beginning as an instructor for her colleges outdoor program then transitioning into a full time educator, teaching for several outdoor education programs and backcountry snowcat ski guiding. In her free time she enjoys playing outside, dancing, seeing live music, and trying new things!
Rachel Guarino
Rachel comes from Southern California in the US. Recently she graduated from University in Texas. There, she discovered a love for the outdoors, specifically backpacking, through outdoor leadership classes and training. She spent three years guiding backpacking, paddling and climbing trips across the US with her University's outdoor program. She has always had a love for people, travel and immersing herself in new cultures. She is passionate about outdoor education and getting people outside because of the personal growth she's has received from it and the growth she has seen in the people she has lead. She is an advocate for diversity and individual rights believing that the outdoors encourages both of these things.
Suman Bhowmick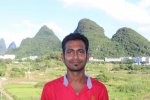 Suman is an outdoor educator from India, with an experience of about 13 years in the outdoor education. He is a certified mountaineer, wilderness advanced first aid practitioner, pursued a diploma in experiential education. He loves climbing, trekking and biking. In his free time, you will find him watching birds or polishing his photography skills.
Charmi Chheda
Charmi is working in the space of experiential education since last 7 years. Charmi has a diploma in experiential education and facilitation continuation. She is also trained in Play for Peace and Wilderness Advanced First Aid, NOLS. She majorly uses outdoors as a tool to facilitate experiences for kids and adults. She is passionate about travelling, and writing blogs on her personal experiences. Bold herself, with immense curiosity to learn, and a deep connection and understanding of Nature's elements makes her come up with amazing ideas for putting a program together.
Khaliq Khan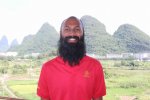 Khaliq is from Malaysia, and has been working for about 8 years in the outdoor industry. This will be his first season with Indier for him, but he has worked in Malaysia, Singapore, Cambodia, South Korea, United Arab Emirates, and China before. His go-to activity would be whitewater kayaking, followed by any kind of water sports. He recently picked up scuba diving, and is learning how to play the guitar currently. His grammar can sometimes be wrong, cos he Malay you know.. He is so deadly in fact that his enemies would go blind from overexposure from pure awesomeness. Shakabuyi!
Sarah Peacock
Sarah Peacock is from Staffordshire, England. She has had the opportunity to travel and work in different parts of the world. She has 10 years experience working in outdoor education and enjoys inspiring others to live an active and healthy lifestyle. She has spent the past 4 years working in and around Australia and has spent 2 years working on a cruise ship. Sarah always looks to improve and develop her skills, she enjoying canoeing, climbing, snowboarding and art. She is very exciting about being here in China.